I started training with Paul in the endless pool about 6 months ago, after I realised that I was not progressing anymore. 3.8km in 1h12mn was my best and after that, it stopped improving. But most importantly, I was not having fun and I noticed that after the swim leg of a race, I always ended up being tight in shoulders and back, not able to lay on the aero-bars for a good 15 minutes until the body recovered from the swim.
Going into the endless pool, with Paul's knowledge, the camera and swim analysis revealed my weaknesses. I had to restart from scratch. Yes, from the beginning! The reason I was able to make my time in swim so far was mostly due to my muscle power. But at a cost. Technique was wrong and with a wrong technique, you hit the plateau!
At first, I have to admit it's hard. Going back to the pool, learning again how to move and breathe properly, was not easy. But as time goes by, training after training, speed could be increased and I started to improve again. I now know I can go faster than before and most importantly, I enjoy the swim and I don't finish my distance with tight shoulders. This lessons are also combined with mobility training with Gijs, so that I can improve my flexibility. Paul and Gijs work well together in tandem and having the two practices under one roof is a real plus.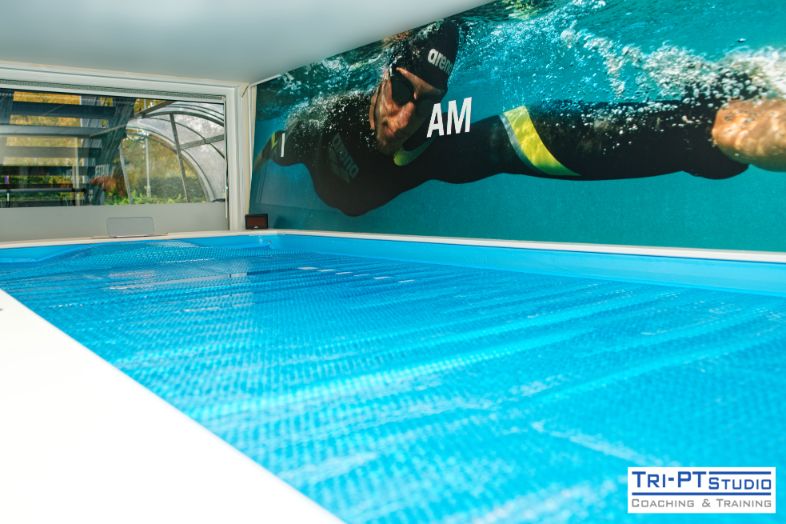 The use of the video is impressive though intimating at first. Each session was filmed, so I could see what went wrong. Not only Paul and myself could visualise what to improve above the surface, the camera under water also track what is happening. During the session, Paul can talk to me via his headset, which makes the swim last more. No need to break to provide advices. Yes, it means I hear Paul reminding me: long arms, take your time, right elbow, etc… A lot to think of! But it is worth it. The "ha ha" moment was later when Paul showed me one of my swim sessions on a video. I thought he put it in slow motion, so relaxed I seemed to be. But no, it was in real speed and I was swimming faster than I used to, before we started the whole program! That is tangible, measurable and visualisable progress.
Of course, with the season closing and knowing I can now enjoy my swim and feel relaxed, new goal for winter (yes, winter also is a good moment to train, the pool is heated!): learn how to breathe both sides! That means deprogramming more than 40 years of breathing one side only. No, it is not easy. In the endless pool, I can correct what I am doing. Paul provides his guidance and I can also see what I am doing under water, with the help of the mirrors in the pool. I particularly look forward to this new step, as it makes the swim even more relaxed.
Swim is a very technical sport. I never thought I was doing so much wrong before. From pain (the swim has to be done for the race) to enjoyment, I strongly recommend trying the sessions in the endless pool with Paul. You will definitely improve your swim. It is really worth it.