Do you think triathlon, especially the longer distances, are reserved for the pros? You are so wrong. I'm proof one can handle family, work and even still fit in some social life.
After moving back to the Netherlands at the end of 2020 and hoping to see some events back on schedule after Covid break I started to think about giving IM number 3 a go. I love the scheduled training, the process and progress. I know finishing an IM is possible especially when your head is ready for it. The preparation brings some sacrifices, and you need to be aware of it  if you want to make it to the red carpet.
The search of an Iron Man
In the beginning of 2022, I started to look for an IM that would suit me. I wanted it to be before summer holidays (I knew it meant a lot of indoor training in the early months due to weather) and knowing my cycling skills I finally needed a flat course. So I found an easy 😉 IM in Hamburg in the first weekend of June. Some people would say it's early in the year, but it was enough time to be race ready.
I needed a coach. Even though I have Australian PT qualifications, I knew I had no experience with writing a tri training, calculating the load… It's such a relief to be able to handle this over to someone else.  I asked Paul if he would have a matching coach within his Tri-PT coaches team.
I needed someone that will accept my love/hate relation with bike and that weekends are not only for long trainings but as well for family and friends. It's easier for me to fit in a 2 hrs daily training than a 6 hrs session on Saturday or Sunday. I'm also a freezer so don't expect me to ride in under 10 degrees or do an OWS in less than 15 degrees. It came out that Michiel had an understanding for my situation and expectations.
In the intake appointment he took notes about my previous experience, strengths and weaknesses and the fun started. I'm an early bird so quite a big part of the training has been done before the family even woke up, some training could be done during kids sports, some commutes were done by bike to get the kms in – with a bit of fantasy you can fit everything into 24hrs. 
I know my limits but still I'm quite ambitious and didn't want to disappoint all my family and friends. Last week my nerves were at the limits. Saturday you could see me crying but as per the email all athletes received a day before the race it's normal to get anxious, the adrenaline is part of the game.
The race week
The race week started with cold rainy weather and huge water temperature drop. Even though the forecast was looking promising, the water temperature was only 15 degrees on Thursday. Luckily on Sunday morning I could deep into 19 degrees water. With 2000 other athletes, sighting wasn't too complicated – I just followed those in front of me and after 1:21 I finally reached a volunteer's helping hand, dragging me out of the water. I spent 11 min in transition – I didn't have a coffee – it was almost 1km long plus I decided to change for each leg. As per my request Michiel didn't plan many long rides in the prep weeks.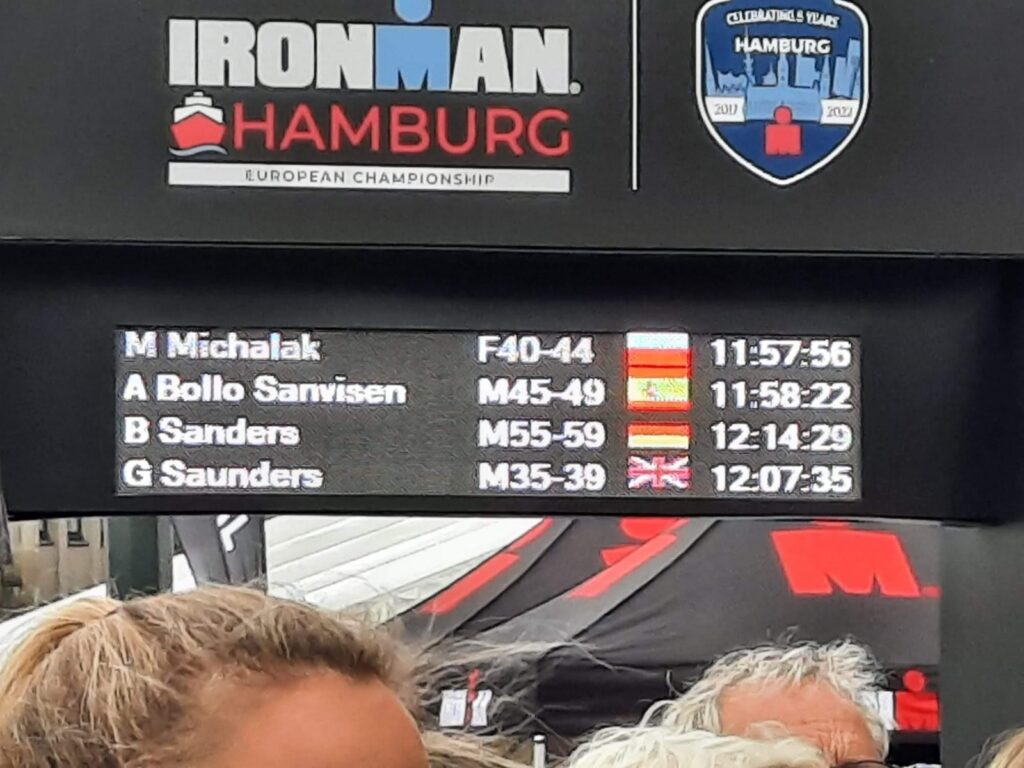 My longest training ride was 135 km (5:15), one more ride of 4:30 and all the rest was shorter, so I was a bit afraid of how do I handle the position on the bike, but it went better than I could even dream about. The combination of great weather, consistent training and cheer made me wonder. I finished 180 kms in 6:07 averaging 3-4 kms/hr faster than all my training rides (I didn't care about being overtaken by 90% of the athletes; at least there was no risk I get a drafting penalty). At km 15 I lost one of my hydration bottles (not a big deal) and at km 25 my spears but took the risk and continued. Back into the extreme long transition feeling I left my legs on the bike. Quick change and to the part that I always considered as my strength. I would lie saying I loved it and just enjoyed. In some pictures you see how I suffered but the family on site, the atmosphere, the music, motivational mottos got me through it (and coke and red bull that I literally drink only in races).
You may not believe it, but I didn't know until the finish line what my finishing time would be. I knew I would have a huge PB, and it was enough for me. I couldn't believe it when I've seen a sub 12 times. Those 30 seconds on the red carpet make it all worth it, you forget all the pain and feel just incredibly amazing.
My IM campaign was relatively short with some 18 weeks, but I worked consistent, the training was tailor made and for the first time I added a strength training (that was the only training I did with a group – I loved the Thursday evening sessions with the Tri-PT members, that was my training highlight of the week).
If you are still struggling to give IM or a shorter distance a go – you will not know what you are capable of until you try and with some determination and right training guidance anything is possible.