Last week Gosse visited Tri-PT Studio for his first swim analysis in the endless pool. In this blog you can read about Gosse's experiences. This way triathletes and swimmers with an interest in a swim analysis in our endless pool get a good idea of how a swim analysis works.
An earlier article describes the entire process of a swim analysis step by step.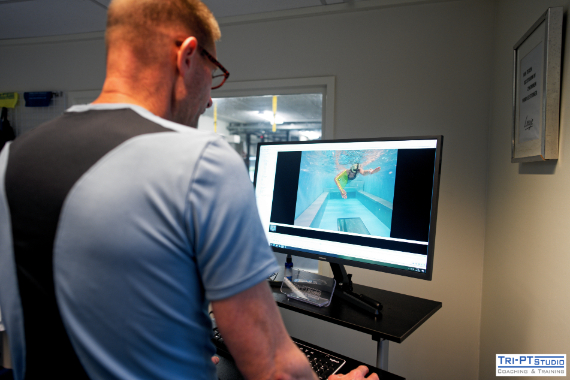 Last summer I participated for the first time in a sprint triathlon and I really enjoyed it. Now I am training for an Olympic triathlon. Cycling and running training go well for me, but I still see swimming as an obstacle. That is why I opted for an indoor swim training / analysis.

At first it took some time getting used to swimming in the endless pool, but after a few strokes it already felt quite natural. I first swam a bit as I would do during a triathlon so my movements could be properly analysed. After this I was allowed to watch the screen as I swam and I received clear feedback and tips from Paul.

The tips and feedback were then incorporated into a few exercises and these were also analysed. This analysis clearly showed that I was swimming much more stable and controlled. This is exactly what I was looking for. I have been given the exercises and analysis images and I can start working on this myself. I plan to come back in a few months before my competition to see if the exercises have helped and to update my technique for the specific competition.
A swim analysis in the endless pool
Are you curious about the possibilities that a swim analysis can offer? The endless pool page contains more information about a swim analysis at Tri-PT Studio. Want to know more immediately? Please contact us by email, WhatsApp or by phone.