Preparing for a triathlon can feel like an enormous challenge. I would like to take some stress of your shoulders by giving you 10 tips for triathlon beginners! Read the next 10 tips to make sure you start more confident on your first triathlon!
1.      Start with a short distance
It often happens that triathlon athletes overestimate themselves resulting in unreachable goals. Prevent injuries by starting with short distances. You could always upgrade the distance on your next triathlon!
2.      Stay nearby home
Find a triathlon nearby home. This prevents race-day stress caused by travelling. It also helps if you already know the parcourse before the race starts. Make sure you are familiar with the course beforehand, this eliminates unpleasant surprises.
3.      Rent a wetsuit
It is not necessary at all to buy a wetsuit or trisuit right away. These products are available for rent, use this advantage!
4.      Don't buy an expensive bike
If you start doing triathlons there is no need for an expensive bike. A regular race bike or mountain bike should suit just fine! Save expenses because a triathlon is already expensive enough as it is!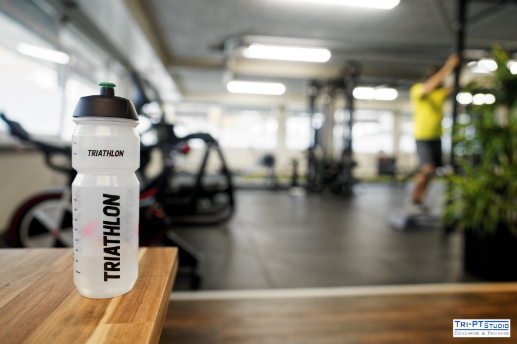 5.      Get the right running shoes
I can not say this enough. Running on shoes that you are not used to can lead to blisters. On the other hand, overused shoes aren't optimizing your results neither. Make sure that you have the right pair of running shoes!
6.      Don't over train yourself
It is a general thought that the more you train means the better your results will get. This is not necessarily true. Be sure to not over train yourself. 20 Training hours per week is already too much. 5 Hours per week is already enough!
7.      Apply rest moments in your schedule
This one is similar to tip #6, too much training does exist! Make sure that you treat yourself occasionally a rest moment. This helps your muscles relax and helps them to restore themselves.
8.      Practice the switches
Make sure that you know how to switch between the different sports as fast as possible. This saves precious time and helps you to be more confident!
9.      Don't start too fast
A triathlon is more than just the swimming. Use your energy wisely, don't give it all on the first part of race.
10. Use elastic laces
This is probably the smallest investment moneywise but will pay itself back for sure. Elastic shoelaces are easily fastened and unfastened. This will save you valuable time.