After a month of renovation, Tri-PT Studio is open! The endless pool is placed and ready for use, the personal training area is finished and is full of equipment and we are looking forward to it! In this article, you'll read more information about the triathlon and personal training studio.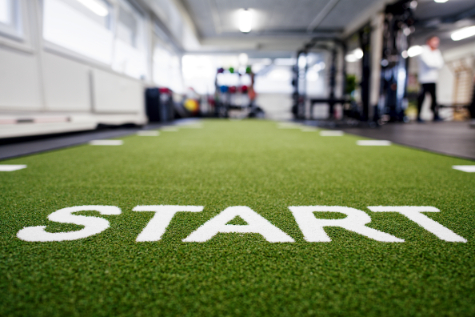 Personal training in Voorschoten
Starting from September 2019, triathletes and athletes are welcome at Tri-PT Studio in Voorschoten. A wide range of activities are performed in the studio. For example, athletes can make a swim analysis to see how their swim technique can be improved, or a personal training session can be planned with one of the trainers. Currently Gijs van Brink and Jim Springer are ready to give personal training.
These trainings can be followed with a trainer, 1 on 1 or with several people at the same time (max. 4). In addition to the studio of Tri-PT Studio you can also use the fields and roads next to the studio, the lake Vlietland or other locations in the area.
Read more about personal training at Tri-PT Studio.
Triathlon coaching
Paul van Brink has been infected with the triathlon virus since 2007. He still participates a lot in triathlon competitions at home and abroad. He is not only a triathlete but also a triathlon coach. With Tri-PT Studio he wants to help triathletes with all aspects of the triathlon. From swim analysis and cycling tests to dietary advice and triathlon motivation.
Tri-PT Studio is the place for triathletes from Voorschoten and the surrounding area. Not only the technology can be found under one roof, the expertise is also present. Read more about triathlon training at Tri-PT Studio here.
Visit Tri-PT Studio!
Curious about the result of the renovation? Do you want to know how the triathlon and personal training studio have become? Then visit the studio for a cup of coffee, a training session or just to have a look! Tri-PT Studio is centrally located at Papelaan 85 in Voorschoten.
The studio is easily accessible by car and public transport. From Wassenaar, Leiden, Leidschendam and the surrounding area you can reach Tri-PT Studio in 15 minutes by car. There is free parking space in front of the door. Voorschoten station is opposite the studio. Sprinters, intercity trains and buses stop here.
For more information about the location and contact with Tri-PT Studio visit the contact page.