"Wow, so small." "He's warmed up, I hope." "Yeah, well I wish you luck, because that swimming of mine…". 'How do you do that Iris, doing so many miles in the bath? I'm really exhausted after a swim in the pool, I'm even overtaken by old grannies."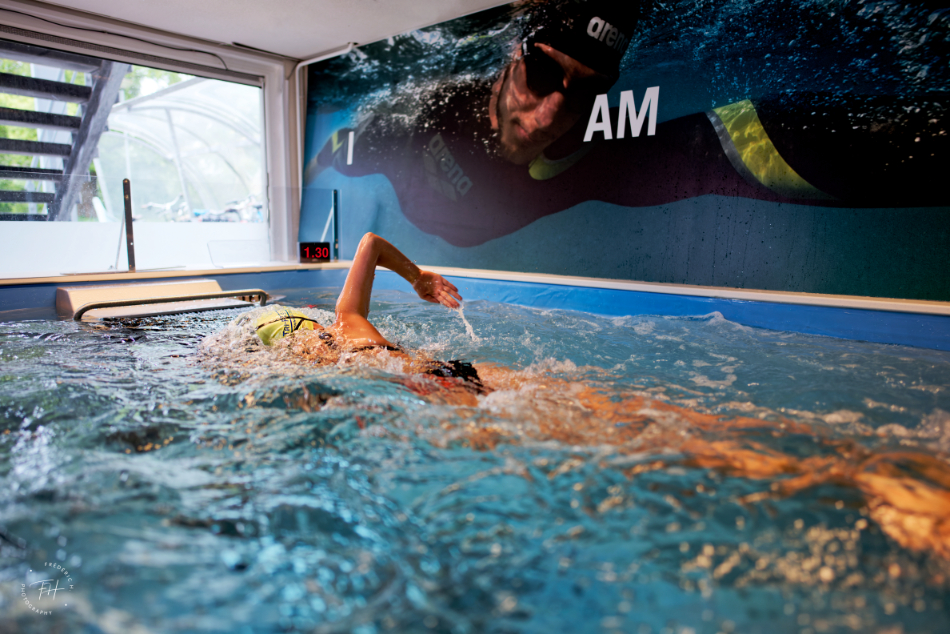 These are some anecdotes from people who came to train in the endless pool. To answer those first two comments, yes the bath is 5×2.4m, but we really don't need more. And yes, the bath is heated to 26.5 C.
And those other two comments, well, swimming is the most technical of all the parts that a triathlon has to offer. Our performance in the water is determined by both the technique and the efficiency of the swimming stroke. That sounds pretty simple right? However, many (novice) swimmers will agree that unfortunately this is not the case.
But luckily there is the endless pool in Voorschoten. I often explain to my swimmers that live feedback is a more important factor in improving technique. Take a totally different sport like football, if I want to explain how to make a good pass (perhaps one of your readers can explain this better to me, but that aside) then you can follow my foot, imitate this exactly and immediately see if your foot touches the ball in the same way. With my favorite sport it's just a little different…
And I'll tell you a little secret: I also think I always swim efficiently, but when I look back on images, it also appears that I don't push every stroke nicely, for example. That's how it goes with swimming, you think you're doing one thing, but it turns out to be something else. That is why we have attached mirrors to the bottom of the endless pool, but we can also keep a close eye on everything above and below water with cameras. And believe me, seeing such a video of yourself is slightly different from the videos that you find all over the internet and try to imitate in the swimming pool. Live feedback (yes, I can also talk in your ear while swimming haha) so you can apply it right away often leads to a great result. |Click here for more information about the endless pool or contact Tri-PT Studio directly without obligation.